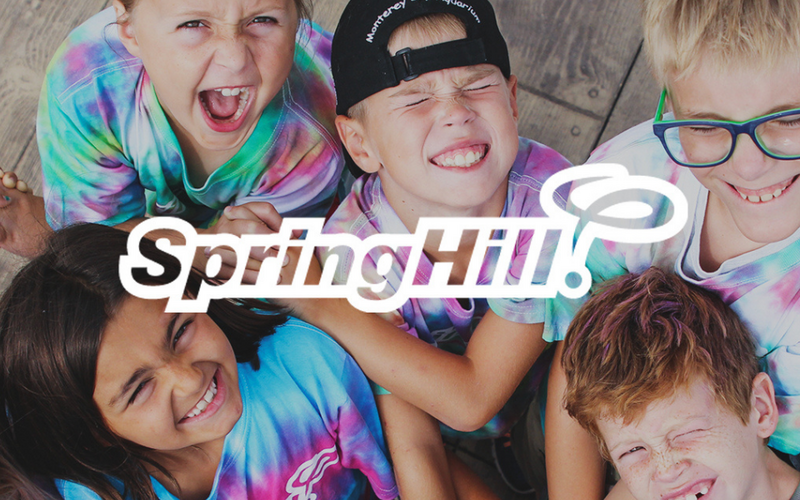 SpringHill Day Camp
Get ready for a great week at Elmhurst CRC with SpringHill Day Camp.
Day Camp is five full days of fun and faith for kids who have completed kindergarten through 5th grade. Day Camp includes small group Bible study, high-energy large group sessions, and awesome activities including the climbing wall, crafts, low ropes, slingshot, water activities, euro-bungee, flying squirrel, silly games, and much more!
When: June 26- 30
Time: 9 am - 4 pm
Who: Kids who have completed K-5th
Cost: $289
Register: (opens Feb 13, 11 pm)

Registration opens on February 13 at 11 pm and fills quickly.
If you have trouble registering, please call SpringHill at 231-734-2616.(Elmhurst CRC is not connected with their registration site.)
__________________________________________________
VOLUNTEER, HOSTING & COUNSELOR OPPORTUNITIES
Hosting Counselors (Receive a Discount)
Hosting counselors is super important to the counselors. You and your family will find it to be a meaningful time as well. Hosts receive a discount off the list price and are removed from the waitlist (if you are on). References required.
Two ways to host counselors:
Bed and Breakfast
Our counselors need a place to sleep, an easy breakfast every morning, and two dinners (Monday and Wednesday nights). For every two counselors you host, you will receive a discount code for $100 off one camper's registration (they cannot be stacked to take $200 off of one camper's registration). If your camper is on a waitlist, they will also be removed from the waitlist.
Tuesday or Thursday Dinner
The SpringHill staff of around 30 will get together Tuesday and Thursday nights. They need a home (backyard!) to gather. You provide the meal for all 30 and a space for them to hang out for about two hours. If you host one of these dinners, you will receive a discount code for $100 off of a camper's registration.
Counselors in Training
We will need 25 middle and high-school-aged CITs for this week. This is a fun volunteer position. SpringHill usually sends this volunteer sign-up link in mid-March—it will not be available before then. It will be emailed out through the Youth Group weekly newsletter.
Paid Counselors
SpringHill has asked for 10 people aged 16 and up to be paid counselors for the week. You will have the opportunity to lead a group of ten campers in Bible study, adventure activities, games, and more. You will be needed Sunday evening-Friday afternoon and paid $150.
Email for Hosting or Paid Counselor Opps
Email for Hosting or Paid Counselor Opps