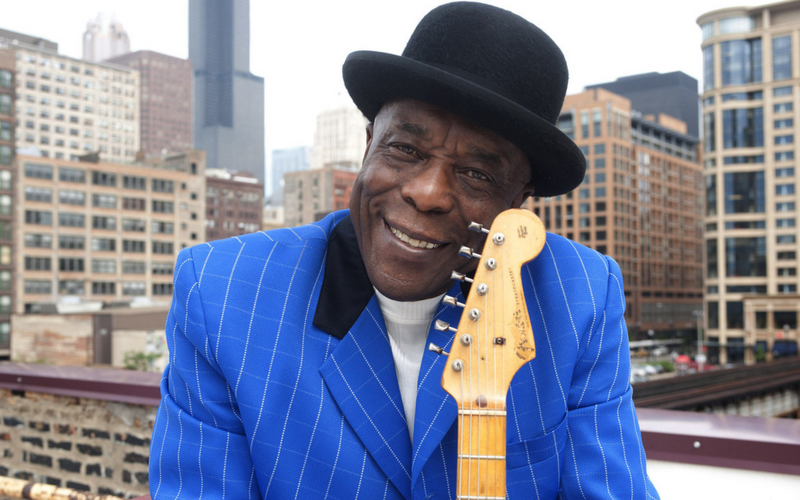 Time Machine
Yesterday I traveled back in time to a world before COVID. Well, almost… I felt like I traveled back in time last night when I went down to the Loop with some friends to hear 85-year-old blues guitarist Buddy Guy play a show at his club, Legends.
While we needed to flash a vaccine card on the way in and there were regular reminders of the COVID protocols for the city of Chicago, so much of this experience brought me back to the pre-pandemic world: a world with more live music, more singing, more laughter, more stories, and more eating and drinking with friends—quite simply, a world with more fun.
Buddy Guy is a consummate entertainer. Even at 85, he's a live wire. He's funny. He's got an amazingly malleable face. He'll play his guitar with a drumstick or the buttons on his jacket. He always takes an extended guitar solo late in a gig and walks up to literally every person in the club (he was wearing a mask for this—the time machine isn't perfect!) The man knows how to put on a show. I want to know what this guy eats, and what his exercise routine is!
If Buddy Guy seems to have discovered the fountain of youth (or really does have a time machine), the most remarkable thing about this living legend remains his voice. The man can still howl the pain of a young man's frustration, he can lightly intone the wisdom of an old man's acceptance, and he can conjure every musical mood in between. His voice is truly a window into an age that is passing quickly.
Buddy was born in Lettsworth, Louisiana—just across a bend in the mighty Mississippi from Angola State Penitentiary. Buddy talks between all of his songs (and often during), and frequently recalls the days of his childhood: farming the land, living in a home with no running water or electricity, the single broken mirror that his mama used to comb her hair.
The blues are born of pain and Buddy Guy has known his share of pain. But the blues are also a musical miracle. The blues rawly express what hurts, and somehow the music leaves both the singer and listener feeling a little better by the time it's all over. Jesus turned water into wine. The blues can turn personal pain and frustration into community.
While Buddy Guy is innately talented to play music and entertain, his real impact lies beyond the power of mere talent. The formative power of a difficult childhood in Louisiana echoes through the timbre of his voice and the tone of his guitar. Without his early challenges, Buddy Guy would not be Buddy Guy.
This realization—that our pain has the potential to raise, elevate, and enhance us as human beings—has God's fingerprints all over it.
If God used growing-up-poor-in-Louisiana beneath the shadow of a massive prison to turn a young man from a farmer to a world-renowned musician, what might the Lord be able to do with the mountain of frustrations we've accumulated over the last few years? We might need to sing some blues. Might need a time machine first to remember how.
May the Grace of God be with you in the midst of it,
Pastor Gregg